After disappointing results from my previous attempts to stall the momentum building around this "must-have" component, I decided it was time to break out the heavy artillery.
If you had read any of the articles leading up to this post, you might conclude that I have been fighting a losing battle. Indeed, I have been chronicling the story of my struggle with this new product idea over the past few months:
Each of those product decisions was driven by healthy skepticism around my company's impulsive and in my opinion, short-sighted product recommendation to build an MS Office plug-In. For the record, I'm not against this product idea at all. The campaign I'm engaged in here has more to do with making good, long-term product investment decisions.
What drove this decision
New product decisions should not be driven by fear, such as the purported threat of some competitor's offering. Likewise, they should not be pursued just because the solution appears to be simple to build or is otherwise easily accessible. There are so many more factors that should be considered. And they should be considered together, holistically.
What I needed was a way to communicate the whole picture to my stakeholders. I wanted to engage in an open discussion around all the decision criteria. And I wanted to come into this conversation with the main talking points already distilled from a more thorough study and backed up where possible, by actual data from relevant research.
The decision: Use Cagan's Opportunity Assessment to approach this product decision with more rigor and less bias.
This product decision really had 2 parts. First, I knew that I wanted to use Marty Cagan's Opportunity Assessment, which is an excellent and straightforward framework for evaluating new product opportunities. I think it is one of the best tools a Product Manager can have in their "belt". I deploy it whenever I encounter exciting new ideas - my own or another's. The Opportunity Assessment helps you exert solid due diligence before a good sounding proposal gets too far along.
Second, I wanted to use the Multi-Tool, a PowerPoint-based tool created by the team at theProductPath for this exact scenario. The Opportunity Assessment Multi-Tool puts Cagan's framework into an easy-to-use PowerPoint structure where the user can capture, then distill, and finally present the Assessment all using the same tool.
Plan of attack
In this particular instance, Cagan's framework lays out the "plan". I stepped through each of the questions of the Opportunity Assessment capturing my answers as best I could. Using the Multi-Tool, I was able to focus on each question in isolation, using the "scratch area" on each slide to record all my rough notes.
When I felt I had sufficient material for a given topic, I distilled a shorter version of the notes in the "summary area" on the left side of the slide (the Multi-Tool shows these boxes in presentation mode while hiding the draft notes).
Below, I have included copies of my rough notes for my company's proposed Office plug-In product. At the end of the article, you will find the distilled version of the notes that I used for the stakeholder discussion.
1 - Value Proposition
I started the Opportunity Assessment by looking at the problem we are trying to solve - not the solution itself. Note that it can often be difficult to focus only on the pain and not talk about the way you or your customers would like to solve it. But here - and this is important - we are trying to assess the opportunity itself, so we can ultimately decide if it is worth solving.
In my case, I had spoken to enough customers and prospects to know that using a cloud-based content repository presented challenges to teams that traditionally work with desktop authoring tools like MS Word.
2 - Target Market
The next step in the Assessment is to clarify exactly who is struggling with the problem(s) identified in question 1. When you have answered these first two questions, you have the foundation of a solid Problem Hypothesis: we believe that [the target user] has problems with [specific task(s)].
I had been able to zero in on the Legal teams as the target users in our customers' organizations who were most struggling with accessing their cloud content from their desktop tools.
3 - Market Size
When you are confident that you know who has what problem, your next task is to determine just how many of these users exist out there. This will give you a sense of your potential market size and should be a good early indicator of whether you're chasing a real opportunity or not.
As you might guess, some of the information in my particular Assessment is sensitive and I have further sanitized it for this article. As compensation, I have included an image of the draft version of the slide where you can see some of the assistance the Multi-Tool provides in the form of notes and pull-out tabs.
4 - Business Metrics / Revenue Strategy
The next topic forces you to think about how you will measure your success if you decide to proceed with the opportunity. I have found that too often, we push forward with new product development and even bring new products to market before we get agreement on exactly how that offering will help the business! That is exactly how we got into the situation I inherited where my company's product portfolio was bloated and unmanageable.
For this assessment, I simply created some placeholders for the ensuing conversation with my stakeholders. I wanted them to be thinking about the revenue impact on our business for sure but also how our customers, our partners, and even industry analysts would ultimately measure our extended product portfolio offering against our competitors.
5 - Competitive Landscape
Now we come to the competitors, or more accurately, the competitive landscape. Because the truth is, you don't always lose deals to another vendor. Sometimes, it is inaction or the prospect's failure to make a decision. Other times, the customer just decides to live with the pain or finds some acceptable workaround.
In our case, I knew what customers had been doing to get by and we had a pretty good idea of what our primary competitor was offering. All the signs would seem to be pointing us toward building our own solution that was more attractive than both the existing alternatives.
6 - Our Differentiator
At this point in the Assessment, it is time to look within. In short, you need to determine, as honestly as you can, why you feel that your company is uniquely positioned to address this opportunity. Put simply, this question is, essentially "why you?"
I saw the customer's problem as a content-related one, and that was certainly within our wheelhouse. Compared to the broad range of functionality we already provide both in the browser and in other desktop applications, I felt that we would be confident in delivering a compelling solution here as well.
7 - Market Window
If the previous question was, "why us?", then this next one could be summed up as, "why now?" Even if all the previous answers had trended more positive than negative, you can still get hung up here.
For example, perhaps the overall market of your prospective users is known to be shrinking. Or perhaps the technology you need to build the product is still immature, giving you good reason to pause. Or maybe it is as simple as postponing this opportunity until after you complete other in-flight projects.
I think my company actually does have some urgency and that if we were indeed going to head up market, then we would need functionality like this to stay competitive. Even though I was still unconvinced that the entire opportunity was worth pursuing, I couldn't deny that the timing was right for us.
8 - Go To Market Strategy
All the white boarding and prototyping and story writing and development and QA and deployment won't amount to a hill of beans if you don't execute on your go to market plan. Think carefully about this topic as you consider how you will get your new product in front of your customers. Do you already have the channels in place or will you be exploring some unfamiliar territory?
This is another area where I have chosen to over-sanitize the material from my own Assessment. I would apologize but I'm sure you can appreciate the sensitivity of this information.
9 - Solution Requirements
If you've made it this far in your Assessment, congratulations - you're in the home stretch. This is where you sit with your top technical folks and have them spell out all the dependencies and unknowns that will affect your development plans. In my experience, this is often a sobering discussion. It's not that Engineers like to rain on parades, they are just blunt and frank by nature - but you need this information to help guide your decision making.
In our case, the list of requirements was quite long, especially considering that all the stakeholders had been assuming this would be an easy win. If I needed more ammunition to build the "no-go" case, then I could count on this laundry list to aid me.
The impact
Cagan's Opportunity Assessment actually has 10 questions. The first 9 essentially prepare you for the last 1: the go/no-go decision. Many times, when using the Assessment, I can stop well before I reach the end when I can see that the target market is not big enough or when the timing is wrong, or when I don't have an obvious go to market strategy. You might think that those are frustrating outcomes but actually, I am always pleased that I arrive at that conclusion before I waste a lot of energy chasing a bad opportunity.
I have yet to share the entire Opportunity Assessment with all my stakeholders but they know it's coming. I'm looking forward to reviewing the information with them and although I'm fairly certain where we will end up, I am genuinely open to the group's collective reasoning.
I mentioned earlier that the Multi-Tool is quite handy when you need to share your Assessment results with others. To demonstrate this, I have included the final Opportunity Assessment here, in presentation mode. Click through the slides to see how the Multi-Tool can also be used to create a beautiful presentation without any additional work. Just digest the best points from each question into the boxes on the left and start the slide show - that's it!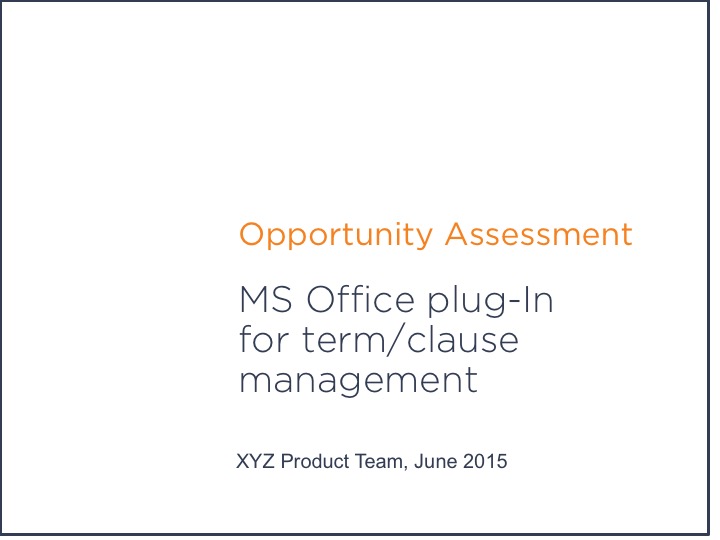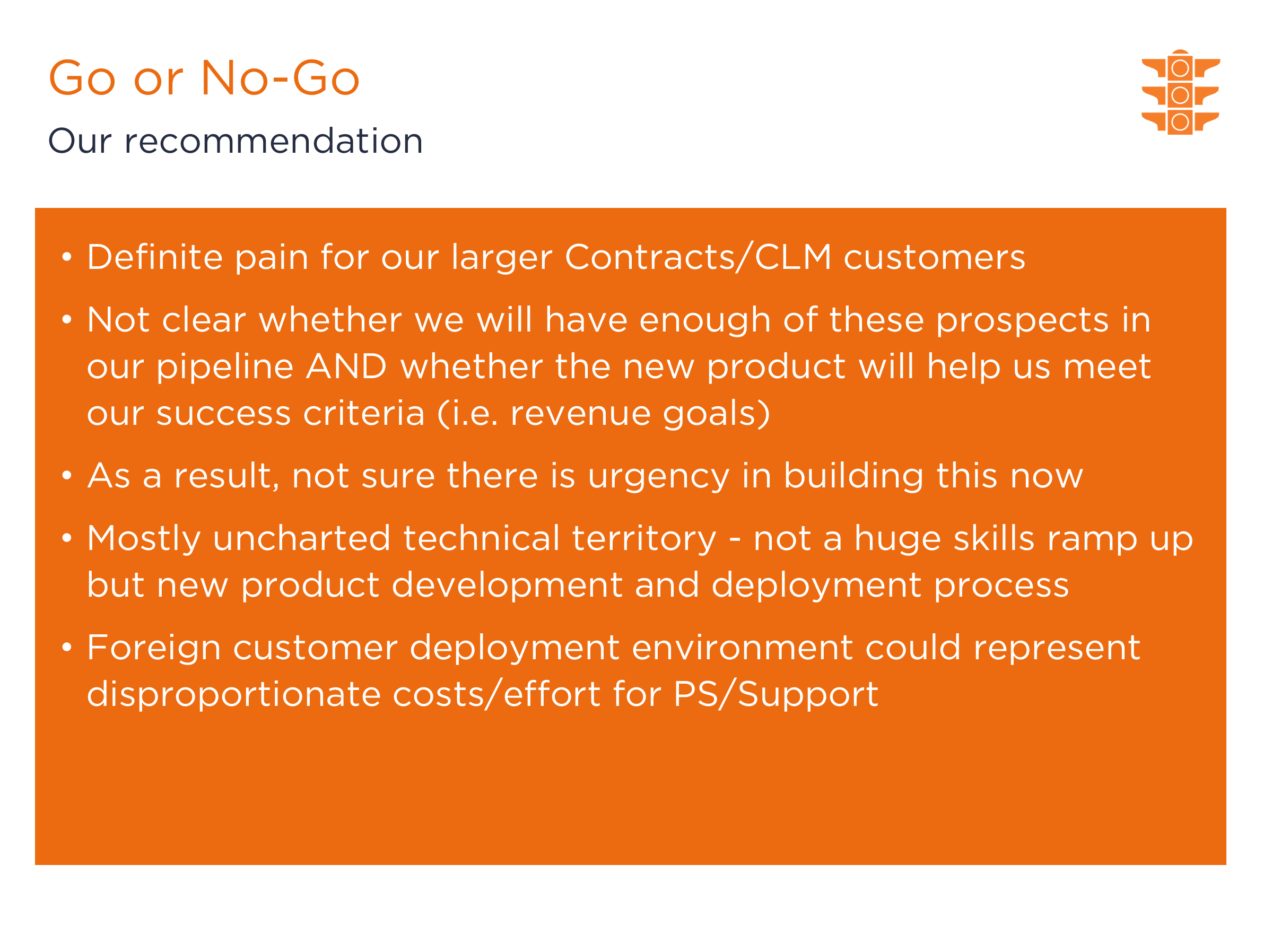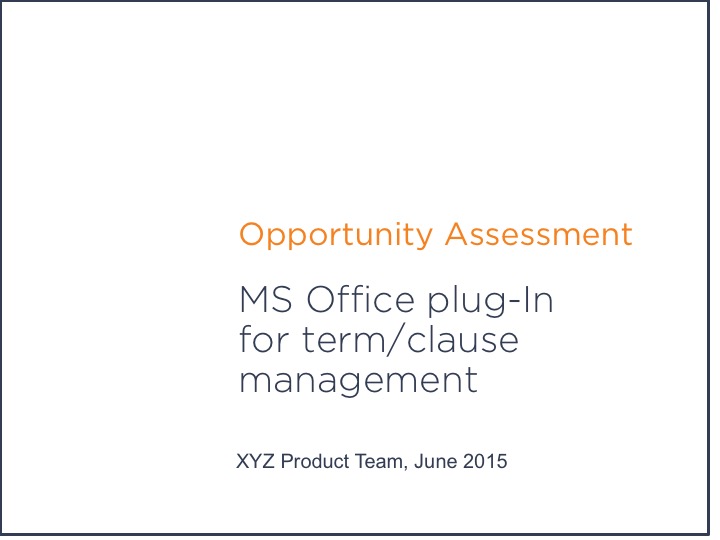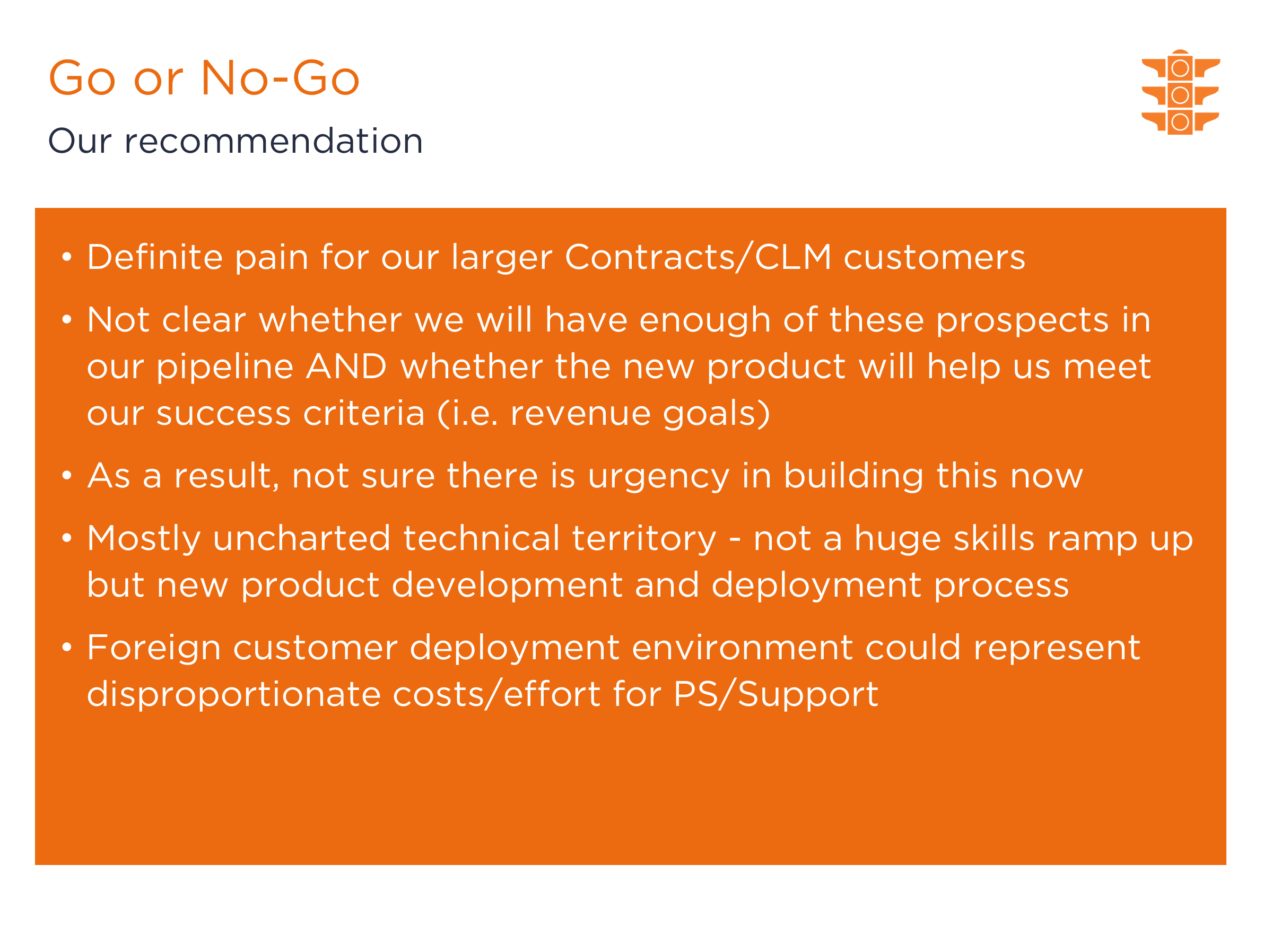 More articles from our blog PM Decisions